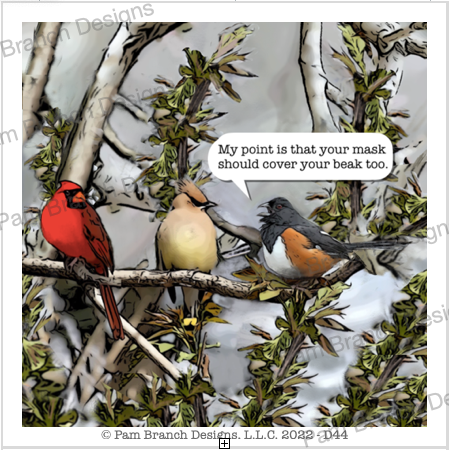 Birds chatting about masks, Decoupage Sheet, Craft Paper D44
Decoupage sheet with a male cardinal, male eastern towhee and cedar waxwing on a branch. The easter towhee is a busy body and gives a little lecture on the proper way to wear a mask. "My point is that you mask should cover your beak too."

The image is 4.5 x 4.5" and was printed on white tissue paper.  Purchase includes 4 printed tissue paper sheets.  (Watermark will not appear on purchased image.)
________
Decoupage sheet and image can not be duplicated, copied, distributed, or sold. Items made using the purchased sheet can be sold for profit.